Changes to Religious Education Program
for 2019-2020
Sunday during 9:30 am Mass: 3 and 4 year old class only.
2 Sunday Options from 10:45 am – 12 noon (K-6)

Family option: Family with children between K-6 come on the first Sunday of the month together. On the second and third Sundays of the month, the parents teach their children at home. On the fourth Sunday of the month, we all come back again together to review.
"Regular Option": Students meet with a cathechist at their grade level K-6.
Monday option from 4 pm – 5:15 pm: Students meet with a cathechist at their grade level K-6.
No class on Wednesday.
On four Mondays before First Reconciliation and First Communion, all students preparing for these two sacraments gather with their parents from 5:30 pm – 6:45 pm for sacramental preparation classes. Second graders do not have regular class that day. They only come for sacramental preparation on those 8 days.
Sign up here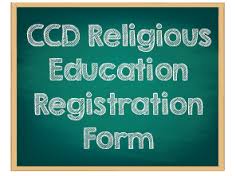 Below are the sheets we use in the Religious Education program to review prayers and knowledge with students as they prepare for the sacraments. Please download these PDF files to guide your child.
First Eucharist
First Eucharist is received in the second grade after a two year preparation. First Reconciliation precedes First Eucharist.
Below you will find two videos for the sacrament: • How to receive Communion
May Crowning 2017
First Reconciliation and First Communion for Older Children
Baptized children in grades 3-6 may prepare for First Reconciliation and First Communion and become active members in our faith community! If your child has not been baptized, please refer to RCIA for Children.
For more information, call Religious Education Office
Patty Mann, Director of Catechetical Ministry, PhD
760.607.5014
PattyM@seschurch.org
Betty Vogel, Religious Education Administrative Asst.
760.607.5016
BettyV@seschurch.org
The Religious Education office is located at the one story Conference Center. Office hours are Monday, Tuesday, Wednesday and Friday from 11 am to 3 pm (the office is closed on Thursday).
Summer Vacation Bible Camp held last week of June. A fun way to share Jesus. 9:30 am – noon.
Share our Religious Education class with your network.