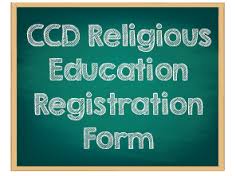 Please contact PattyM@seschurch.org for K- 6
and ColeH@seschurch.org for Middle School (Alive) and High School (Decision Point) students.
REQUIREMENTS: To register your child/children for Religious Education (K through Confirmation). Please follow the steps below.
1. Your family must be registered in the parish. If you are receiving donation envelopes or if your child(ren) attended Religious Education last year, your family is already registered (please skip to Step 2). If you are new to the parish, please fill out the New Parishioner Registration form first before proceeding to Step 2.
2. Now that you are registered in the parish, please submit the appropriate form below. The forms will register three children; if you have more, submit another form, but pay only once.
• 2018-19 For New Families starting with the Religious Education Registration Program
• 2018-19 Returning Students Religious Education Form (or if your child attended Religious Education class last year).
3. After you submit the appropriate form, pay the fee via credit card (for online payments only). You will be directed to the Fee Order page. Click the appropriate fee. Please Note: Registration is not complete until we receive payment. If payment is delayed, registration will be delayed. Credit Card Information: Payment for RE classes are for specific services to be rendered between September 2018 and May 2019, therefore payments are not tax deductible. Sorry, there are no refunds as spots are limited.
4. If your child(ren) are new to the Religious Education program, please submit a copy of their baptismal certificate. You may fax the certificate to the Religious Education and Youth Ministry offices at 760.607.5014. Or scan the certificate to a PDF file and attach it to an email to BettyV@seschurch.org . Paper Registration Forms for Religious Education are available only during office hours in the Religious Education office. Office hours are Monday, Tuesday, Wednesday and Friday from 11:00 AM to 3:00 PM (the office is closed on Thursday). Thank you for instilling a life of faith for your children.
Religious Education Fee 2018-2019 
Class schedule: Online registration closes on Aug. 31, 2018.  Grades K -6 Sundays at 9:30 am • 11:30 am. Mondays or Wednesdays at 4 pm  Junior High meets on selected Sunday evenings from 6 pm-7:30 pm. Confirmation 1 & 2 students meets on selected Sunday evenings from 6:30 pm – 8 pm.
---
For more information: For K-6 program Betty Vogel PattyM@seschurch.org 760.607.5016 Office Hours: Mon, Tue, Wed and Fri from 11am to 3pm For Middle School – High School Cole Hauso ColeH@seschurch.org 760.607.5018 Office Hours: Mon – Thurs Noon – 5 pm Please share our program with your family and friends.