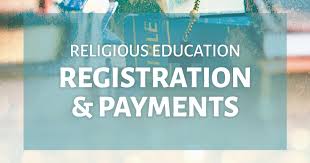 Please contact PattyM@seschurch.org for K- 5
and ReannaC@seschurch.org for Middle School 6-8 and High School students 9-12.
Registration process for 2023-2024
Religious Education (Pre-K through Confirmation)
Registration starts July 1, 2023
Please contact PattyM@seschurch.org or call 760.607.5014 BEFORE you register your child if you fall under one of these categories:
• If your child is seven years old or older and has not been baptized, or older than second grade and has not received First Communion.
• You would only like to sign up for Religious Education class but not interested in becoming a parishioner at this time.
We switched to a new system (ParishSoft) in 2021 to simplify parishioner registration, offerings, classes all under one secure portal.
FOR NEW USER : If your child/children was not enrolled for any class in the last 2 years.
Follow the new user registration on ParishSoft, you will receive an email after 1 business day that your registration is approved.  Approval will be made during normal business hours (Mon-Fri 9 am to 4 pm).  Please allow 1 business day to receive approval. Once approved, you may log back in to enroll in Religious Education Class/es. Select the Family Education tab and choose Online Registration (see image below). Submit and make your payment. Registration is complete once payment is made.
For those who enrolled in the last 2 years using ParishSoft, just login with your credentials and select the Family Education tab and choose Online Registration. If you require assistance using ParishSoft, please contact our office manager Victoria Francisco at 760.607.5013 (Mon-Fri 9 am to 4pm) or email VictoriaF@seschurch.org
Click the image below to start your NEW USER registration process or click this direct link.


IMPORTANT: A child who will be receiving the Sacrament of First Communion or Confirmation must have a copy of his or her baptismal certificate on file with the church. You may scan and send the certificate as a PDF file and email to PattyM@seschurch.org. Please make sure the image file clearly captures the entire document. Paper Registration Forms for Religious Education are also available for pickup at the Parish office. Registration is not complete until baptismal certificate (if applicable) and full payment is received.
By registering your child, you give your consent to receive Flocknote emails and texts regarding Religious Education classes and events.
Religious Education Fees 2023-2024

3-4 years old PreK : $95
Grades K-8 : One child: $150 • Two children $170 • Three children $200
Additional $150/child for Confirmation
Class schedule

3-4 year old Sunday 9:30 am Mass
K-5 Sunday 10:45 am – noon
K-5 Sunday Family Model
K-5 Monday 4 pm – 5:15 pm
Gr. 6-8 Tuesday 6:30 pm – 7:45 pm
Confirmation 1 Sunday 3:45pm – 5pm
Confirmation 2 Sunday 6:15pm – 7:30 pm
More details on class description/calendar.
---
For more information: For K-5 program  Patty Mann PattyM@seschurch.org 760.607.5014
For Middle School (Gr 6-8) and High School Reanna Layba Castro  ReannaC@seschurch.org 760.607.5018
Please share our program with your family and friends.